Mark your calendars: The 24th annual IEOA Truck Parade & Food Drive will roll through Greater Victoria on Saturday, Dec. 2.
An exciting kick-off to the holiday season, the truck parade is also a significant fundraiser for local food banks. Over its 24 years, it's collected approximately 170,000 pounds of food donations and raised about $84,000 in financial contributions.
"Our ultimate goal with the Truck Parade has remained the same over the years, to inspire Greater Victoria residents to donate in whatever way they can, be that in food, clothing, financial donations or even donating their time through volunteer work," says Wendy Watt, Manager at Island Equipment Owners Association.
"We're at full capacity again this year with all 80 spots already spoken for, with many repeat drivers from previous years who keep joining us brighter and more festive than the year before!"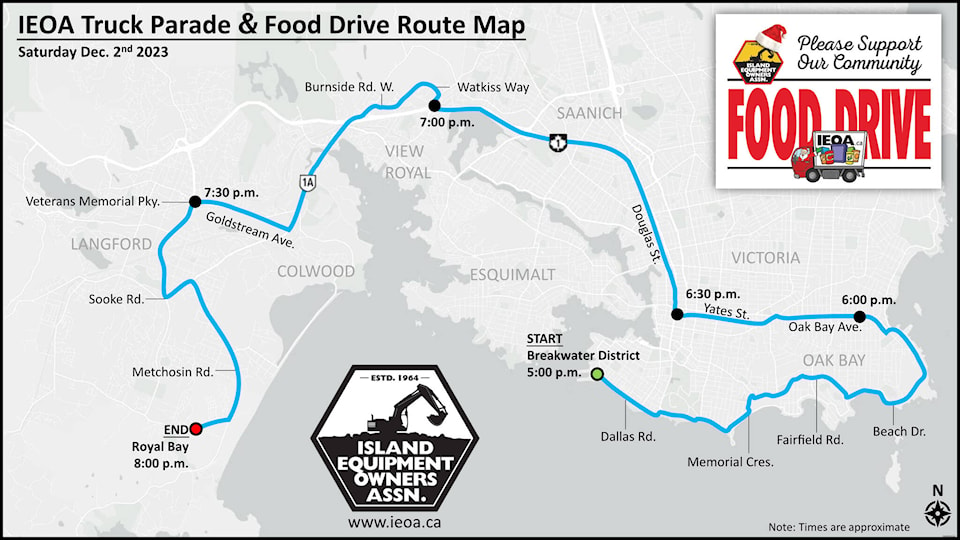 Some changes to this year's parade route accommodate a new 'last stop' for drivers in the Royal Bay community in Colwood. The parade will start in the Breakwater District at Ogden Point at 5 p.m., with the lights shining bright along Dallas Road before the trucks head to Oak Bay for 6 p.m. where CHEK will be live streaming from the glow of the beautiful Oak Bay Village. They will then travel down Yates Street, north on Douglas Street and into Saanich. The trucks will take the Helmcken exit, roll along Watkiss Way and up the Colwood strip to Goldstream Ave and past the Langford Light Up before taking a new LEFT turn at Veterans Memorial Parkway and into the heart of Langford past the Westshore Center.
"This new route will take us on a longer path through Langford, allowing for easier access to spectator parking and some great viewing locations of the parade trucks, to our new 'last stop' in Royal Bay," Watt says.
From Veterans, the parade will turn left on Sooke Road, then right on Metchosin Road, taking them to the heart of Royal Bay at the Commons, where GableCraft Homes and the City of Colwood are hosting a special 'Christmas in Colwood' event. The trucks will remain on-site for a short time, allowing guests to get a closer look at their favourites.
Watt encourages those who can, to consider making an online contribution to one of the following organizations before the event:
For the convenience of spectators along the 35km route there'll also be a GPS tracker on the first and last truck in the parade lineup so you can see where they are and when they will be in your area. A link for the GPS trackers will be available on the IEOA website during the event, for more information visit www.ieoa.ca/ieoa-truck-parade-food-drive.