Lose yourself in Van Gogh's Starry Night this summer!
In fact, you can experience more than 300 larger-than-life images of the post-Impressionist's greatest works as Victoria welcomes Beyond Van Gogh: The Immersive Experience.
Projected on the ceiling, floor and walls, the works are transformed into a three-dimensional, immersive experience, complemented by a symphonic soundtrack, to bring to life one of the world's most influential artists.
Beyond instantly recognizable classics, like The Starry Night, Sunflowers and Café Terrace at Night, and many revealing self-portraits, you'll be transported through history, learning about the artist's background, with his own dreams, thoughts and words complementing his art, creating an unmatched experience.
One of the key take-aways is Van Gogh's passion for light and colour that can be overshadowed by his darker moments and mental health challenges, suggests art historian Fanny Curtat, an Art History Consultant for Beyond Van Gogh.
"I think what I like the most is that it's not all focused on the darkness," she says, pointing to the delicate flowers of Almond Blossom, painted to commemorate his nephew's birth. "There's a reason he's such a global phenomenon and there's a reason The Starry Night is one of the most famous paintings in the world."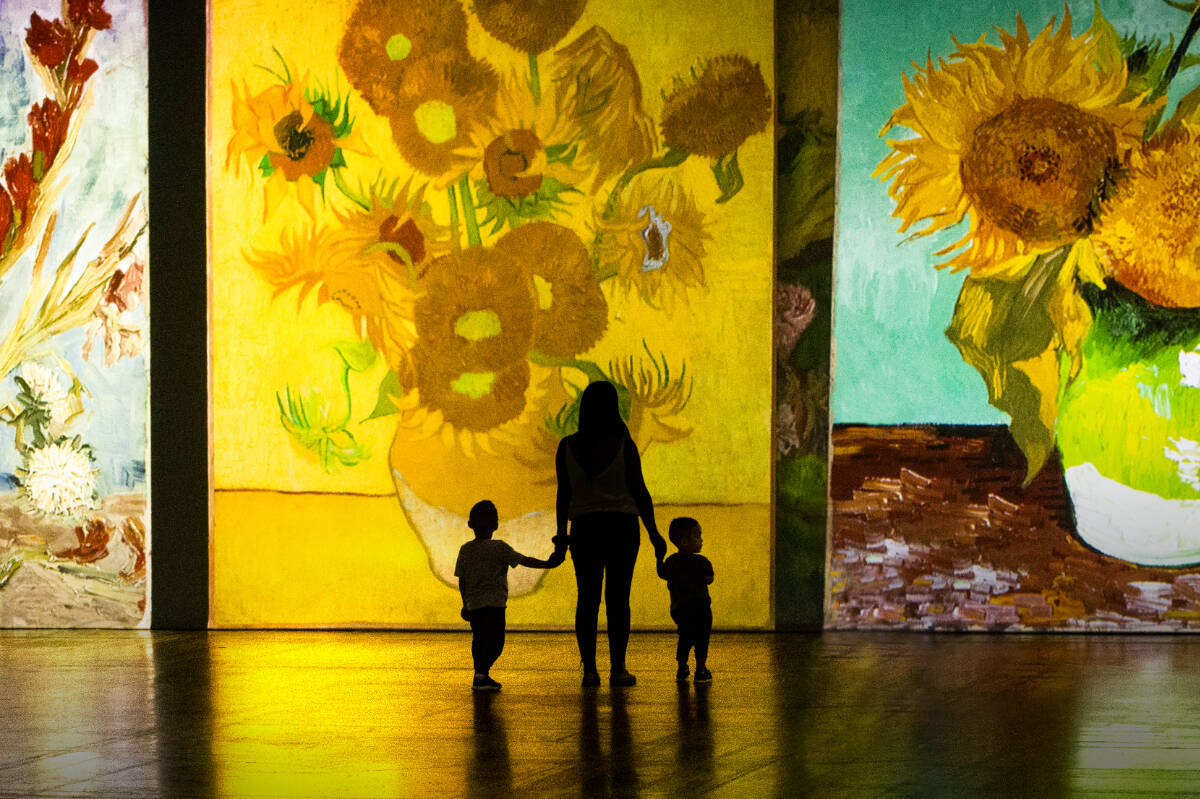 Only painting for the last 10 years of his life, "art is almost therapeutic for him" and something Van Gogh wanted to be shared and enjoyed, Curtat says, noting the immersive digital experience is the perfect fit for his work.
"When you look at an original Van Gogh, it already looks like it's coming from the museum wall toward you. At this exhibit, there's something so special about walking into one of his paintings."
The exhibition was created while the world was locked down during the pandemic, an experience that informs Curtat's appreciation of Van Gogh's eye for beauty in ordinary things. "He's an artist who's able to find beauty in his bedroom or a pair of boots by the door. We can all use a bit of Van Gogh's way of looking at every day," she says.
And while the magical experience is a great jumping-off point for children or others new to Van Gogh, experienced art enthusiasts will also enjoy the opportunity to discover something new about the artist and his work, like the level of detail he employed or how he applied his brush strokes.
Take in Beyond Van Gogh: The Immersive Experience today
Produced by Paquin Entertainment Group, Beyond Van Gogh has toured North and South America, connecting more than 50 million 21st century guests to the 19th century master. Here's how to join the experience:
WHEN: Through Aug. 20, Tuesday, Wednesday, Thursday and Sunday from 10 a.m. to 8 p.m.; Friday and Saturday, from 10 a.m. to 9 p.m.
WHERE: Starry Night Pavilion at Bayview Place, 355 Catherine St. in Vic West.
HOW: Tickets, starting at $31.99 for adults and $23.99 for children (ages 5 to 15), plus ticketing fees, are on sale now at vangoghvictoria.com