Thrifty Foods' very first store is now its most modern.
Serving the community from the heart of Fairfield since 1977, the store is celebrating the results of a year-long renovation, throwing open the doors on a fresh new look and feel.
"It's super-exciting – it's the first of its kind for Thrifty Foods' new store look, with a boutique style and features like the smoothie bar and hot food selections," says store manager Ray Gudmundson. "The store is so much brighter and it has a fresh, exciting feel."
Shoppers are also loving the increased elbow room as they browse their favourite sections, Gudmundson says, noting that reconfiguring the space has created a roomier feel.
"The customers have been so loyal to us, even throughout the year-long renovations, and I think they deserve that shopping experience."
Delicious new options ready to try
Shoppers are also savouring the delicious new food options.
The new juice and smoothie station has quickly earned more than a few regulars. "If you've never tried our fresh-squeezed juice, it's just amazing," Gudmundson notes.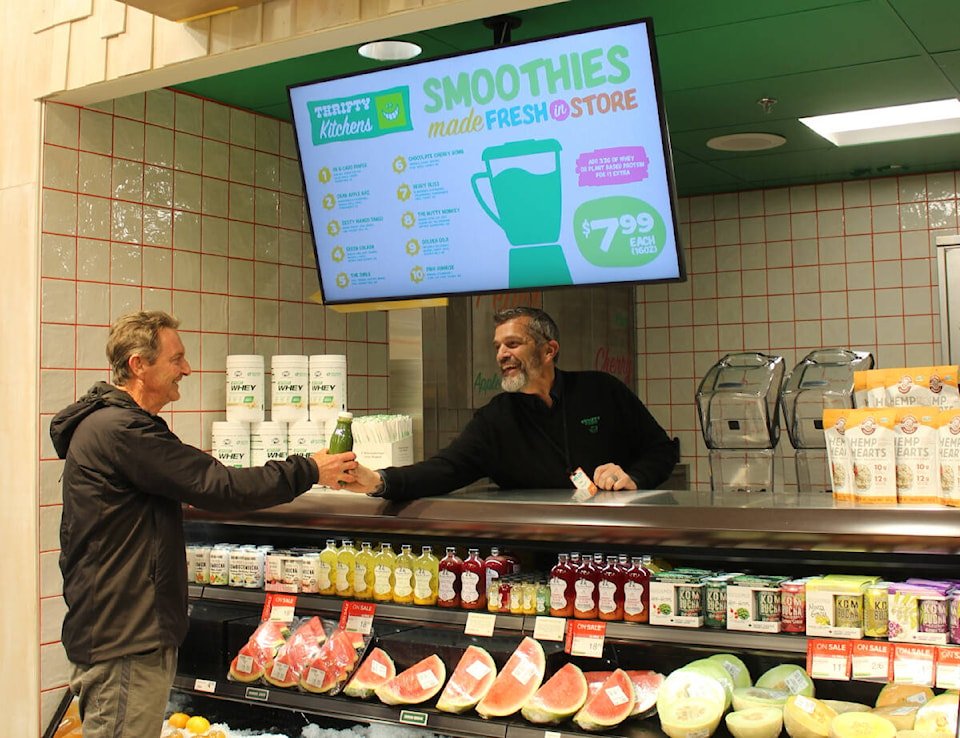 Hungry customers can stop by the sandwich bar and select their fave fixings or follow the lunch-time workers and after-work crowd to the hot food bar, filled with Thrifty Kitchen favourites like shepherd's pie and mac-and-cheese. And in the butcher shop, they'll find the dry-aged beef case, filled with tender, flavourful cuts just waiting for the oven or barbecue.
Gudmundson is also thrilled to give his staff a modern, welcoming place to work: "I can't say enough about how our team has been committed throughout the renovations to ensuring our customers continue to have a positive experience in the store."
He also reflects on the sense of pride he has about the store's historic connection to the community: "This store has a deep connection to the neighbourhood, from local schools to community events and sports sponsorships," Gudmundson notes, pointing to the 46-year history with Beacon Hill Little League, "We sponsored them in 1977 and every year since. It feels like it's part of our DNA to be part of that."
Join the celebrations
This Thursday, Nov. 23, the Fairfield Thrifty Foods kicks off its grand re-opening with special giveaways, samples from local vendors and lots of in-store fun, plus special promotions continuing for the next four weeks. (Be sure to scan your Scene+ card to be entered to win one of four e-bikes!) Visit from 7 a.m. to 10 p.m. daily in the Fairfield Village Shopping Centre.
"I'm just super proud of my team and the store and we're all really excited to share it with the community!" Gudmundson says.