We talk about cities like they're people, with personalities. We say, Oh, I love Paris in the fall or New York is my favourite city without giving credit to who we're really praising when we say such things – the people who live there now, and the people who have lived there in the past.
Do we love Barcelona because Barcelona has done something, or do we really love Gaudi? What about Rome... did the city build the Coloseum or did some Caesar? Paris is known for its architecture and its city layout, but that was all the work of brilliant planners executed over hundreds of years. It was Baron Georges Eugene Haussmann who designed the space around the Arc de Triomphe, for example, and it was his idea to have 12 avenues that shot from the circle intersection to the rest of the city.
But that ability of a certain city to become a living thing and not just the playground of its people – to outsiders, at least – is carefully crafted and maintained. A city's business is exactly that... business.
With that in mind, The Guardian merged its efforts with Saffron Brand Consultants and measured the 'Brands' of 57 global cities around the world.
First overall?
That would be Los Angeles, California.
New York City came next, then London and then Paris. The heavyweights, not surprisingly, topped the podium.
The strength in a city's brand relies on its reputation worldwide and what others are saying about it.
In this case – in the paper's 'Global Brand Survey' – Saffron looked at two factors: 1) its "assets" and 2) its "buzz".
Assets includes things like attractions, climate, infrastructure, transportation, safety and economy. You know, the Economist's normal gamut of important things.
Buzz includes the fun stuff, like "a combination of social media (Facebook likes and Twitter sentiment analysis) and media mentions."
"Uniqueness is the goal of city branding, which during the past few years has grown into a global industry connected to tourism and the media-sports-and-entertainment complex," writes Guardian reporter Sharon Zukin, in her story accompanying the brands ranking titled 'Postcard-perfect'.
"Originally a promotional scheme meant to lure new residents, city branding is now a slogan tied to a public relations campaign to make the places where we live into "destinations". As always with branding, image is everything."
Even the Toronto Raptors are chasing that rabbit, hiring the most famous Canadian rap artist in the world to be their team's global ambassador.
For L.A., it's clear its reputation as not just the epitome of California cool but also the cultural crown of the United States (dating back 100 years in many ways) and the location of Hollywood is keeping it high on travellers' wish lists.
"For cultural variety and sheer glitter, however, LA outshines them all," the study reads. "It has stunning weather that New York and London just can't compete with, the amazing beaches to show it off, world-class art, movie history, an endless parade of famous attractions, an improving crime rate and a certain well-known sign in the hills. After years of languishing, the City of Angels has top spot in the brand firmament."
Saffron and The Guardian merged the two together to create the following map and metric. (Source: Saffron Brand Consultants)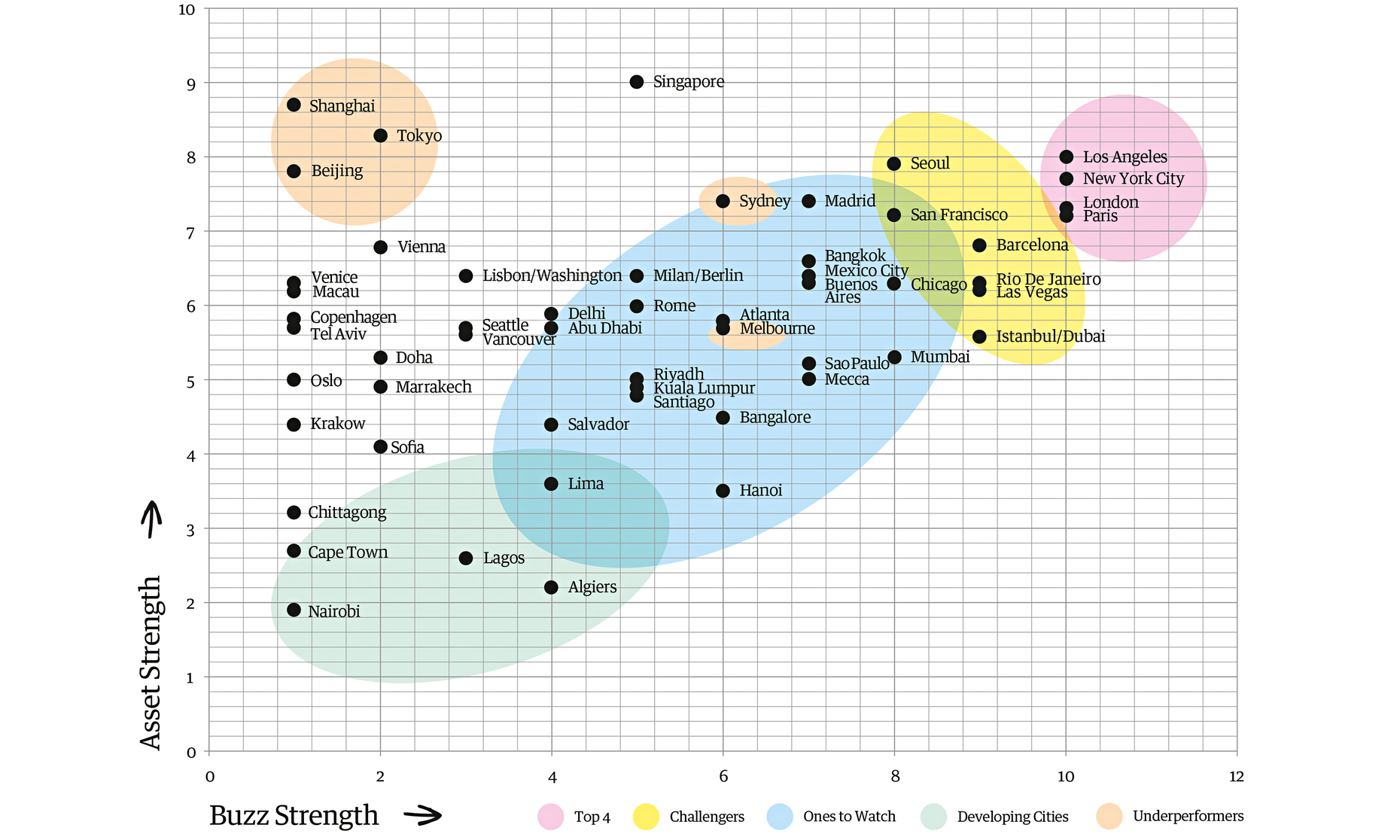 If it's hard to see, click that link above to get the full-size version. You'll notice, Vancouver is the only Canadian city to come close to the bubbles of relevancy, right next to Seattle, Lisbon, and Washington, D.C.
(Lagos, in Nigeria, is apparently up there with Vancouver and Seattle in "buzz", but it lags behind in "assets".)
Notably stragglers were Tokyo, Vienna, and Venice – all three famous tourist spots are failing to attract "buzz" from the Internet's social voices, with surprising high-placers like Atlanta, Mecca, Milan, Riyadh, Hanoi, Santiago, Salvador, Lime, and Abu Dhabi shooting ahead.
The full Top 25 is below... photos from Wikimedia Commons:
25. Berlin
24. Milan
23. Melbourne
22. Atlanta
21. Mecca
20. Sao Paulo
19. Mumbai
18. Buenos Aires
17. Mexico City
16. Sydney
15. Bangkok
14. Singapore
13. Chicago
12. Madrid
11. Istanbul
10. Dubai
9. Las Vegas
8. San Francisco
7. Rio de Janeiro
6. Barcelona
5. Seoul
4. Paris
3. London
2. New York City
1. Los Angeles