- Words by Toby Tannas Photography by Darren Hull
It's a new recipe for date night and it's become one of the hottest tickets in town. Kelowna's Lakehouse Home Store has opened Lakehouse Kitchens Cooking School, and it's a true sensory experience from the moment you step into the grand space, located on the second floor of the Bernard Avenue store.
The hands-on kitchen is a feast for the eyes. Cooking stations are equipped with the top-of-the-line products you've come to associate with Lakehouse. A beautiful dining area is perfect for hosting small, private gatherings and the impressive demonstration kitchen is truly a culinary masterpiece—and it's where some of the best chefs of the Okanagan share their expertise.
On this night we are seated in the demonstration kitchen for a Sip & Savour experience with Lakehouse's culinary director, Chef Bernard Casavant. Our table for two has a bird's eye view of the prep area and large TV screens allow us to see the chef's every move as he guides us through the preparation of a three-course Spanish meal.
Chef Bernard is casual and comfortable with the small group, as we wait for everyone to arrive. Drinks are served and there's a genuine enthusiasm on both sides of the kitchen island. Tonight's menu includes Spanish seafood soup, roast leg of lamb and Spanish flan. Not only do we get to learn from and interact with a world-class chef, we also have the privilege of eating the food he prepares.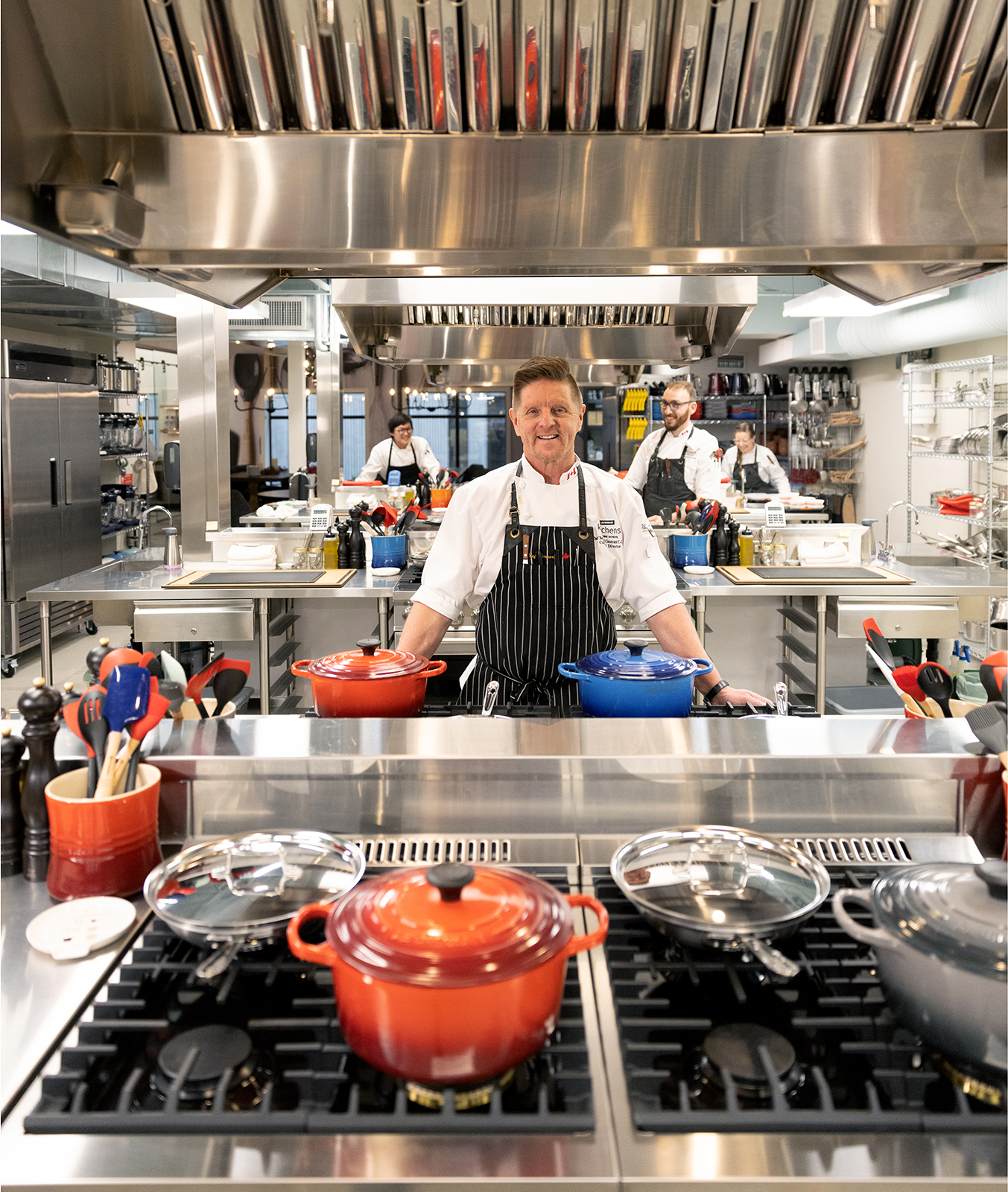 It's a new style of date night and it's catching on.
"We know it's a trend that isn't going away," says Chef Travis Pye, operations director at Lakehouse. "People like to cook at home, and through the pandemic people realized they want to spend more time in their kitchens, so it's a good thing to know how to cook. The pandemic really re-ignited that passion in people."
The idea for Lakehouse Kitchens Cooking School sprouted well before the pandemic. Chef Travis, along with Lakehouse owners Ben and Sue Boschman, were exploring the cooking-school concept in other markets. They drew on the research to build high-calibre kitchens designed to attract not only a foodie clientele but topnotch chefs to lead the experiences.
"We're excited and honoured to have Chef Bernard here as our culinary director to lead the program. Along with him, we're bringing in guest chefs from around the community. We have 10 Red Seal chefs and pastry chefs on board right now to teach their specialties."
These specialties include preparing world and regional cuisines, cake decorating and more technical things like Knife Skills 101.
We get a taste of knife skills tonight as Chef Bernard de-bones the lamb shank, showing us step by step how to best do this at home. As he works, someone in the group asks where he got his start.
"If you read my high school yearbook, my aim was to be the chef at the best hotel in BC. I'm BC-born and raised," he says with pride, as he arranges meat, bones and vegetables in a baking dish. "At that time, the best hotel in my opinion was the Four Seasons in Vancouver. I did work there as executive sous chef, but then I got pulled to Whistler. I ended up spending 19 years in Whistler, and worked at what I now consider the best hotel in BC—the Fairmont Chateau Whistler."
Not all of his 19 years there were at the Fairmont. Chef Bernard also ran his own bistro with his wife and business partner, Bonnie, for 11 of those years. Ask anyone who dined at Chef Bernard's place back in the day about the carrot and brie soup and the famous cinnamon pecan buns: they are apparently unforgettable.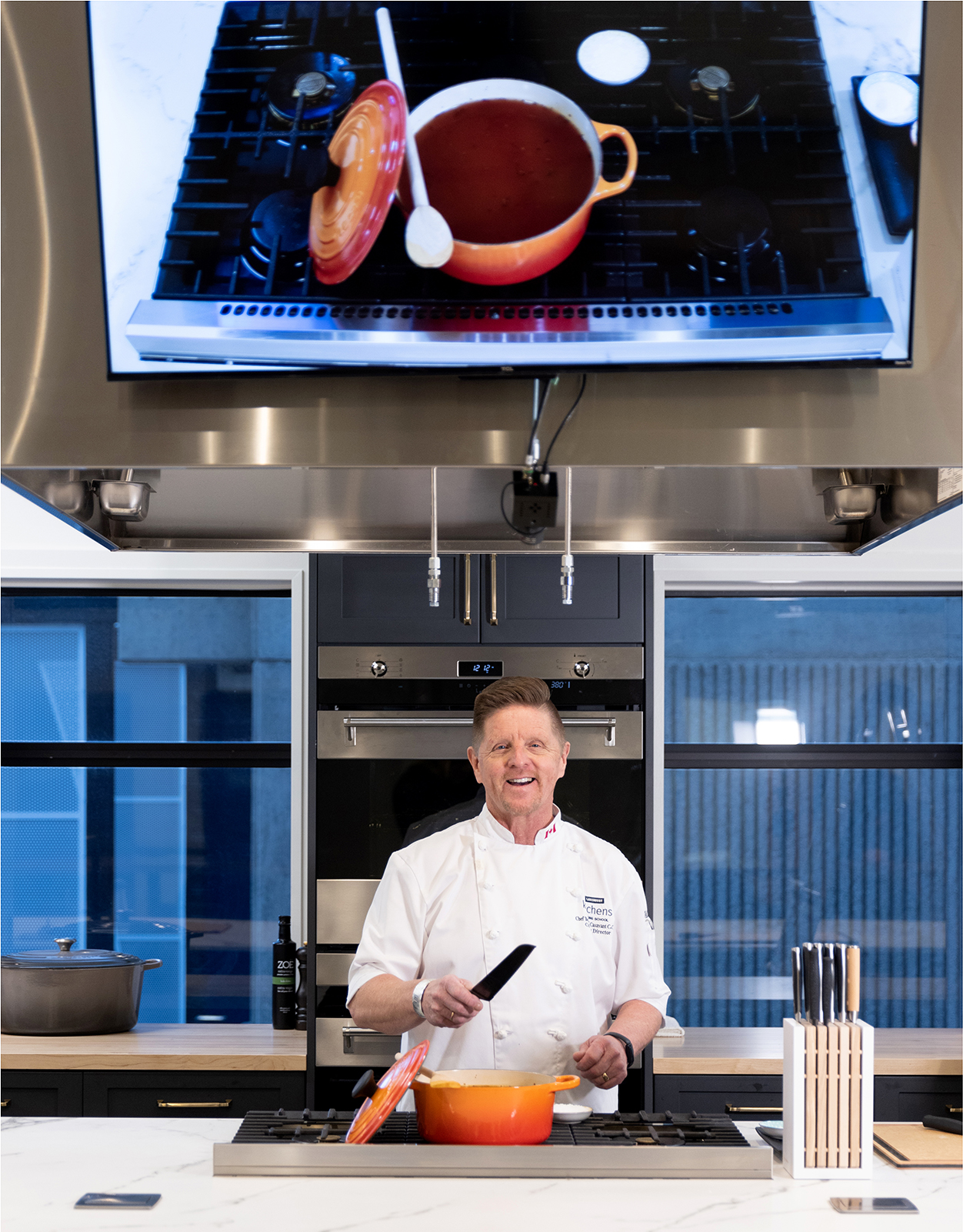 It's a different soup on the menu tonight. Fresh seafood is the star of sopa de mariscos (seafood soup). As Chef Bernard explains how combining paper towel and fish and a few days in the fridge helps your fish achieve a beautiful crust (really, it's true), he peppers in the story of how he came to call the Okanagan home.
"We love the lifestyle—we love to golf—and the food scene was up and coming back in 2006. Our kids were raised so we made the move."
Since then, Chef Bernard has operated or consulted in some of the best restaurants in the valley, including a stint at The Sonora Room at Burrowing Owl Estate Winery, and working to revamp the food and beverage program at Manteo at Eldorado Resort for the launch of SmackDAB. He also took a turn running the culinary program at Okanagan College and worked as operations director at the renowned RauDZ group of restaurants in downtown Kelowna. Chef Bernard's realm of influence is vast, but he says working in the Lakehouse kitchens is the perfect culmination of it all.
"This is my Zen moment. I am proud to be here training young apprentices and the everyday home-cook enthusiast. Instilling in them a love for the industry and showing people how to make really good food is an experience that they can bring back to their own kitchens."
As he prepares and serves the three courses, Chef Bernard shares more stories and kitchen knowledge that draw several "ah ha" moments from the group. Did you know you should roast your peppercorns before you put them in your grinder? Or that spices should not be in your cupboard for more than a year? (Honestly, I have a jar of paprika that has been through three moves over five years!) The takeaways are endless and include menus, recipes, wine pairings and chef notes from each class.
With our appetites satisfied and our thirst for information quenched, we offer up a cheers to the chef and his team and head off to pick up some key tools used to prepare the meal. That's another perk of a class at Lakehouse Kitchens Cooking School—we'll call it the fourth course—shopping at Lakehouse Home Store with your "chef for a night" discount.
Dinner out is great; dinner out with conversation and instruction from a professional chef like Chef Bernard is next level. Reserve your spot at the next Lakehouse Kitchens Cooking School experience. You'll find the ever-expanding class calendar online at lakehousehomestore.com.
Story courtesy of Boulevard Magazine, a Black Press Media publication
Like Boulevard Magazine on Facebook and follow them on Instagram