From behind the front desk of the University of Victoria's Graduate Student Society, Petranella Daviel regularly gets approached by those who can't afford the region's housing.
"You're spending so much of your time thinking about rent and so much of your salary on rent that it's just crazy," the grad student said.
Those housing struggles can be compounded, Daviel said, for grad students with young families who need larger spaces and for those who are new to the area and have no network to fall back on.
Obstacles to student housing inspired NDP leader Jagmeet Singh's visit to UVic on Wednesday (Aug. 30) as he pushed two proposals aimed at providing students with suitable places to live.
The first would see the federal government, provinces and schools evenly share the costs of building new student housing. His second proposal was vague in details, but would see the feds provide incentives that would allow non-profits to enter partnerships with commercial operators to transform their unused space into student housing.
"There's a lot that we can do, we can't do the same tired things from the past hoping it's going to give us a different result, we need to be really focused on building affordable homes for people, particularly for students," he said, backdropped by about a dozen UVic students.
Lamenting how students can't find or afford a place to rent when they should be focused on their studies, Singh said the federal government must take an aggressively active role in building truly affordable homes.
Asked how he'd pay for the federal government fronting one-third of new student housing costs, the NDP leader said it's an investment that needs to be made. Needed revenue could come from cutting fossil fuel subsidies, reducing the amount of public services being contracted out and closing loopholes allowing corporations to avoid payments, he said.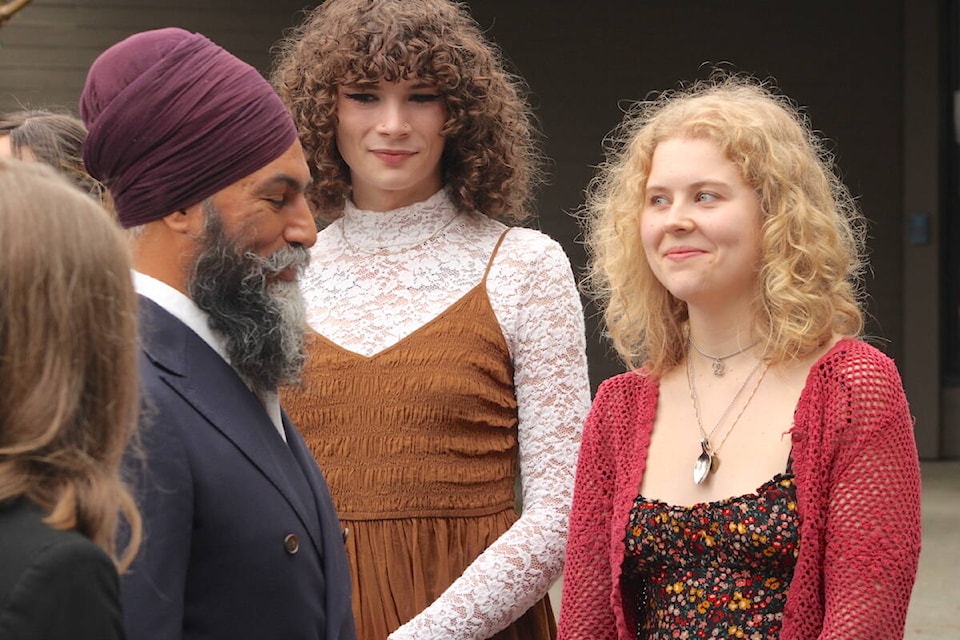 Singh's visit comes after the new federal housing minister said Ottawa could consider a cap on international student permits that have boomed over the last decade.
Kyla Turner, the executive director of the UVic grad student society, said international students face real gaps in affording a place to live as they're subject to limits on how much they can work. Not only would minor drops in international enrolment gut university finances, but those students are also key to the country's future, Turner said.
"They are going to be the folks who are solving our problems and we are driving them out of our largest communities and we are driving them out of our country."
Singh echoed one of the housing minister's calls as the New Democrat said post-secondary institutions should have to show how they plan to house the students they're accepting. He stressed international students are in no way to blame for the tight supply of homes as he said that fault lies with consecutive Liberal and Conservative governments that haven't built enough housing.
The federal government recently received a report from housing experts that included a host of recommendations. The report called for the feds to be involved in funding student housing as it acknowledged the large increase in international students can contribute to straining supply "in communities with high enrollments relative to the population."
"Building more student residences at our colleges and universities would ease these pressures," the report said.
When asked about another aspect of the report, Singh said he'd support the recommendation for incentivizing the construction of purpose-built rental by eliminating the GHT and HST on those projects.
READ: Canada's social housing stock lagging behind peer countries