Alongside partners stretching to the U.S. southern border and east coast, managers of larger buildings in the Capital Region have been decarbonizing their operations amid the push to drive down greenhouse gas emissions.
Many of the local structures transforming their energy systems belong to the Greater Victoria chapter of the 2030 Districts Network – a group of property managers from 23 cities spanning North America that are sharing resources to help the built environment become zero-emission by 2040.
The Greater Victoria district's 12 property managers run 38 buildings, representing 3.8 million square feet of commercial space and government facilities owned by Victoria or Saanich, like various municipal halls and Commonwealth Place.
The local focus is on existing buildings because it's harder for them to reduce emissions and energy use compared to new construction, said Cora Hallsworth, the Greater Victoria 2030 District's manager.
"There are huge changes that need to happen within our existing buildings to get to zero-carbon energy," Hallsworth said.
The 2030 districts help property managers undertake greenhouse gas and energy evaluations to see where they're at and what could be done to achieve their reduction goals. There are lots of retrofits and fuel-switching options available, Hallsworth said.
Costs and the pandemic seeing managers prioritize getting their occupants back have presented some short-term barriers, but Hallsworth said there's still good traction on energy transformations as operators see the potential for cost savings.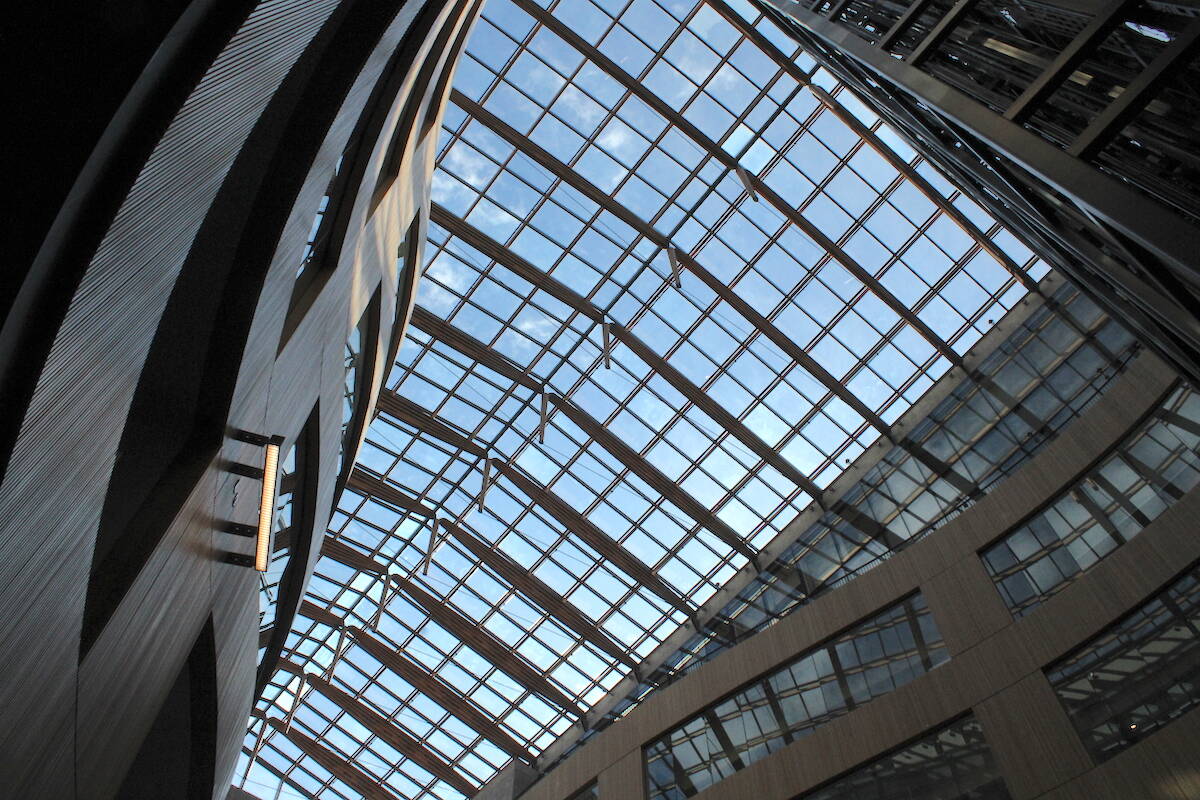 Buildings make up a majority of Victoria's total greenhouse gas outputs, with natural gas being the city's most-emitting fuel type. The city is also seeing an increase in natural gas uptake.
"It's definitely going in the wrong direction to have more hookups to natural gas. We want to have less," Hallsworth said, adding that while Fortis rebates make natural gas enticing, those buildings are locking themselves into fossil fuel systems.
Amid an array of climate change impacts already being seen, Hallsworth said advancing the use of electric heat pumps is especially important at the residential scale so people can access cooling in the summer and can keep their windows closed during smoke events causing poor air quality.
"Any measure to reduce our emissions is going to make everything better in the long term to improve our resilience," she said.
The local 2030 District aims to host a wide range of property types and the local district hopes to bring in smaller builds moving forward as those may lack the resources to make decarbonization plans.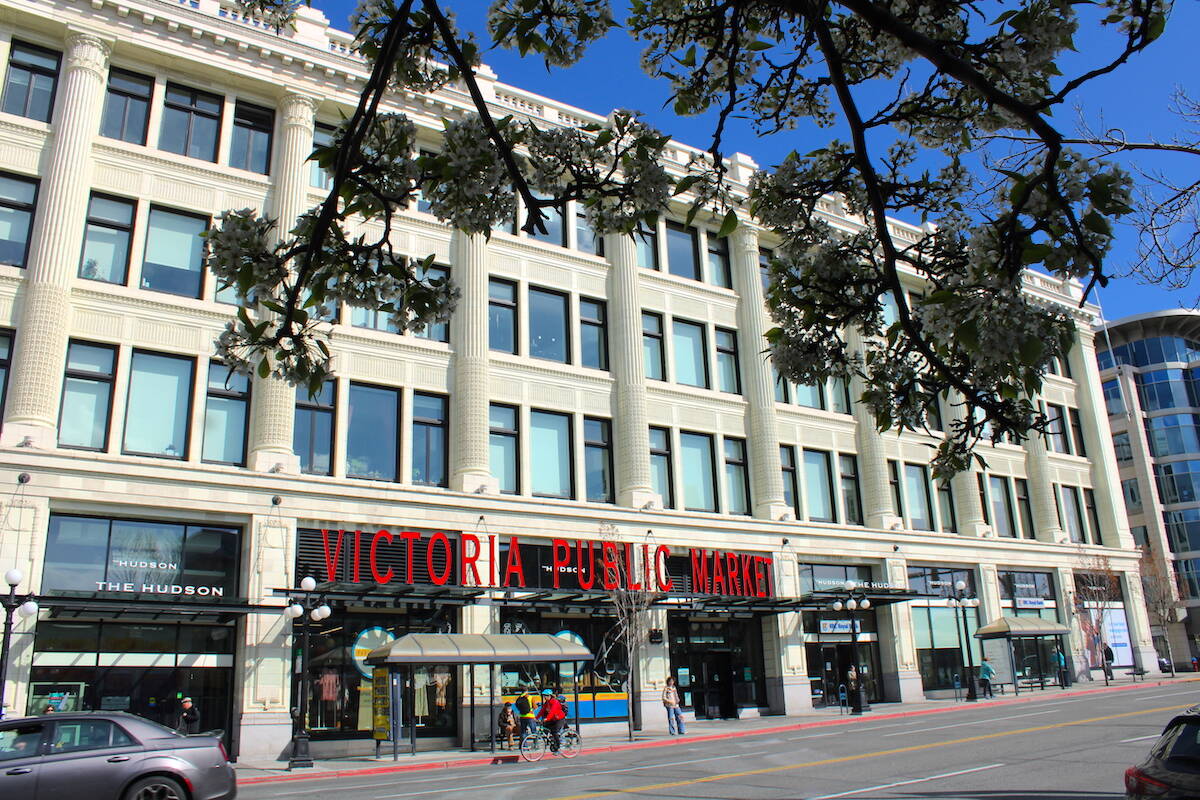 While the heritage facade has stayed intact, changes at the Hudson have lowered its reliance on fossil fuels. The former department store – which hosts about 120 condo units above the Victoria Public Market – was renovated about a decade ago with a geothermal ground loop system to help its energy needs.
The system uses the earth's energy and combines a series of water pipes, a heat exchanger and pumps to distribute warmth throughout the building, or the equipment runs in reverse to provide cooling when it's hot. It's also supplemented by natural gas boilers that kick in during some times when energy demand peaks, like when residents are getting ready in the morning.
"The main decision behind going for this geo-energy thermal loop was in an effort to decarbonize our buildings and create a more renewable option into our builds," said Brett Sagert, passive house and sustainability specialist at Townline, which owns the Hudson.
Since energy is being produced on-site, Sagert said the facility consumes a lot less compared to similar properties and it likely produces fewer emissions than a theoretical structure that would be built to minimum standards in 2020.
"When we decided to go the route of geothermal, it was kind of a new and emerging technology that we wanted to try and again it's to bring down the overall reliance on electricity or natural gas," he said. "It's definitely going to be less burden on the building itself, we're going to have less reliance on natural gas boilers."
The geothermal aspect added complexity to the Hudson project, but Townline said it's going to apply the newfound efficiencies to its future builds.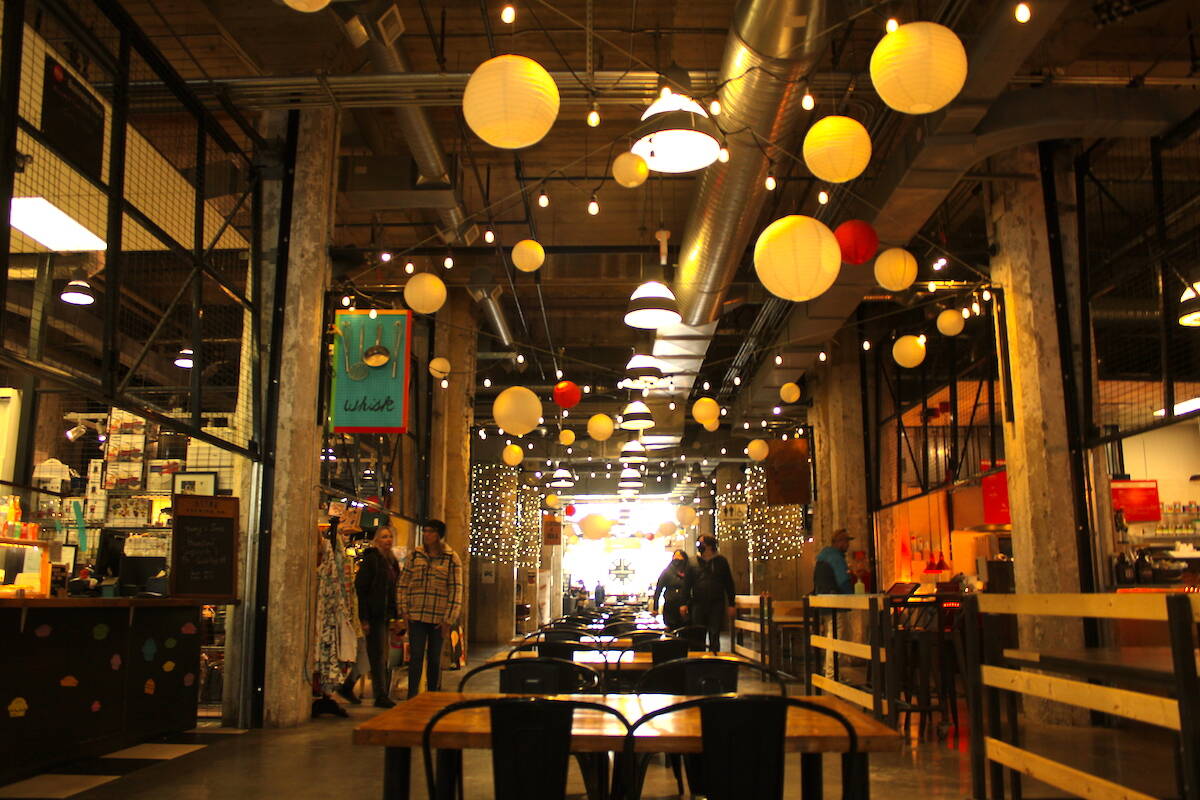 The Bay Centre is also a member of Greater Victoria's 2030 District – one that's highlighted as a model for commercial spaces after it reduced both its overall emissions and energy use by 30 per cent between 2011 and 2019.
When the Bay Centre was built in 1989, its only heating component was the warmth that radiated from the lighting. General manager Darlene Hollstein said she's most proud of updating their lighting to a more efficient system equipped with automated timers because that change is responsible for the majority of the energy reductions.
A smaller environmental impact is the goal, but it's an added bonus if the increased efficiency helps lower bills for retailers and makes for happier customers, the manager said.
"The consumer of today is a lot more in tune with sustainability, so sharing these winnings with them tends to bode well with the consumer and, at the end of the day, is savings all the way around for everybody," Hollstein said.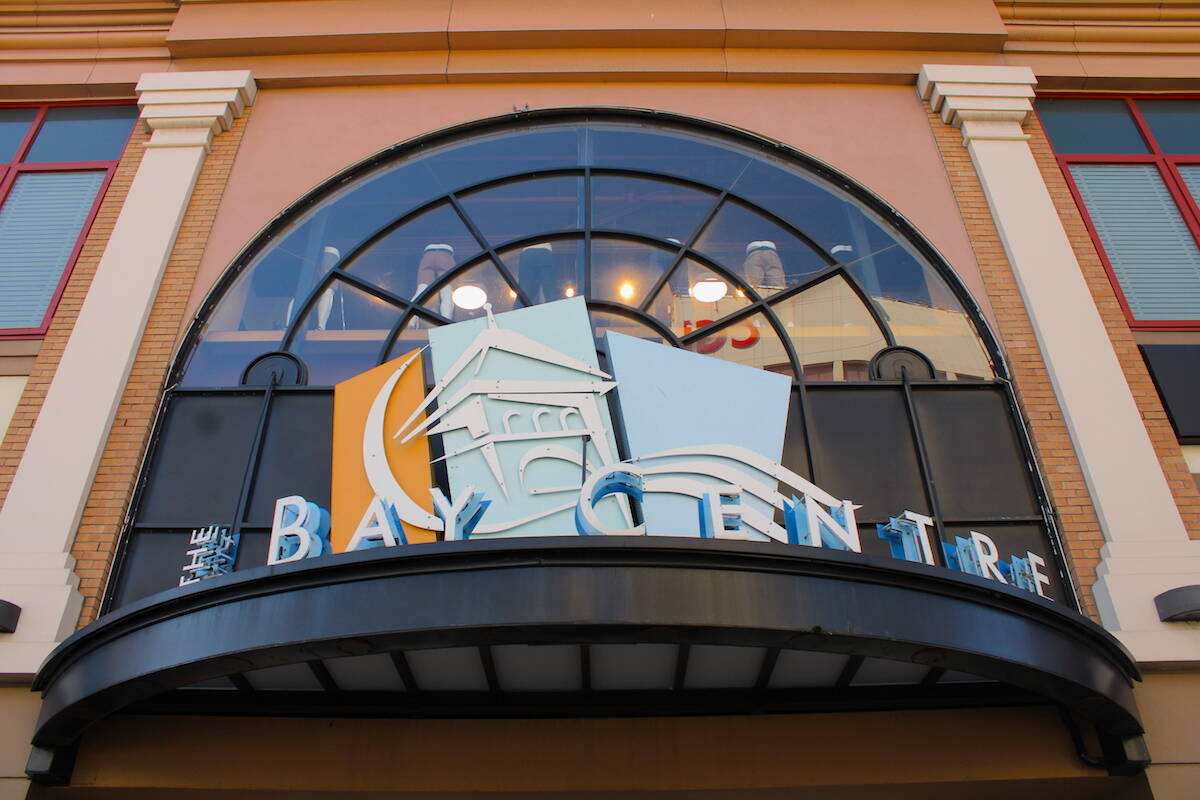 The centre has been making additions in recent years but has achieved other reductions through initiatives like cutting its water usage with low-flow options and installing a new roof and window films that help conserve energy used for temperature moderation.
The shopping spot also tried to lower its landfill contributions as it diverts thousands of kilograms of cooking oil waste for biofuels annually, sorts and donates refundable recyclables to non-profits that benefit the Children's Hospital Foundation and hosts second-hand clothing swap events.
The Bay Centre is currently preparing to add 10 more electric vehicle chargers, upgrade its chiller system and increase its garbage diversion.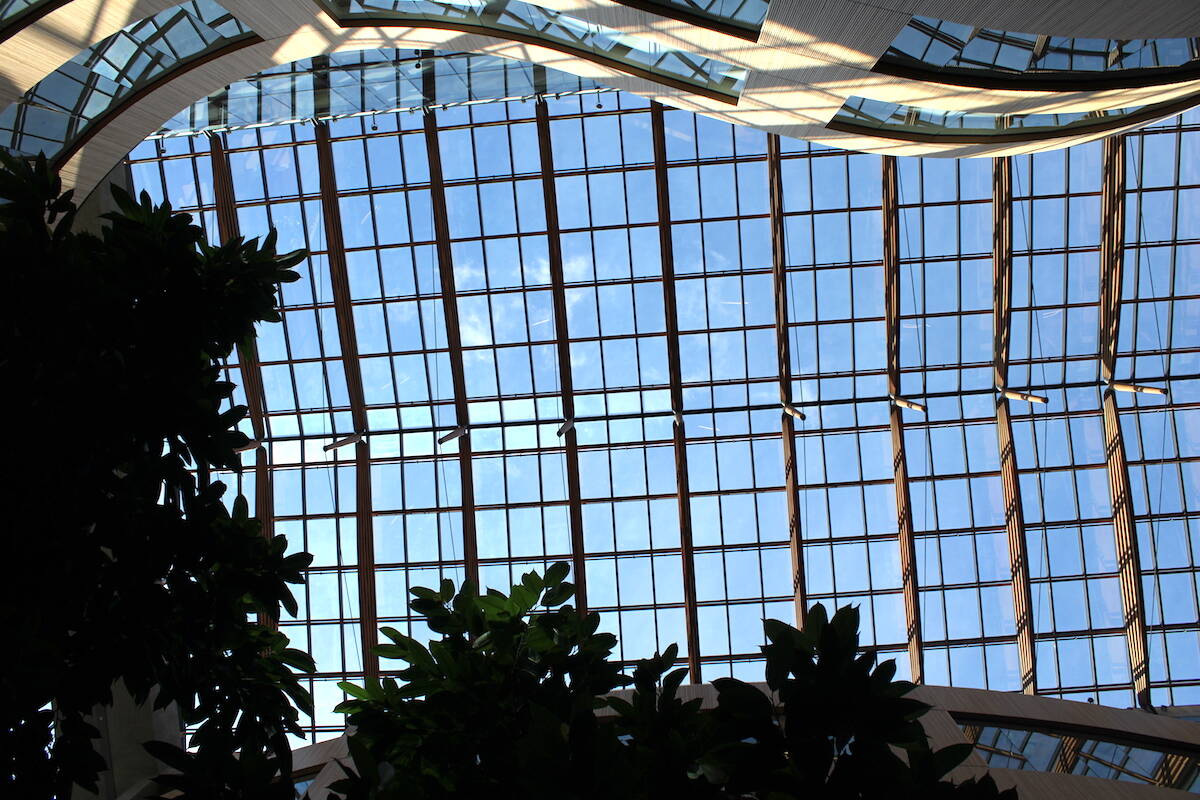 The University of Victoria's David Bristow studies the built environment and its relationship to goals around reducing emissions, sustainability and climate-related risks.
Even if emissions dropped to zero overnight, buildings and infrastructure will still need to adapt to climate stressors and shocks from the greenhouse gases emitted to date, the civil engineering associate professor said.
"We don't want things to get worse so we need to cut carbon emissions," he said. "If our objectives are to use our resources most effectively and to keep our buildings operating the way we're used to them operating and to enjoy them the way we're used to enjoying them, then the reality is we have to both mitigate and adapt."
The researcher is helping the 2030 District create a tool that will support decision-making around climate risk to buildings. The hope is that owners or managers can use the tool to help to isolate and prioritize the risks facing their property. The resource would also suggest some low-carbon pathways that could help reduce those risks.
"That's a tool we'll pilot with our Greater Victoria 2030 District, but hope it can be replicated in other locations in B.C.," the local network's Hallsworth said.
---
Do you have something to add to this story, or something else we should report on?
Email jake.romphf@blackpress.ca
Follow us on Instagram. Like us on Facebook and follow us on Twitter.