A Saanich artist is facing heated criticism for a copyright infringement that she called "a dumb mistake."
Since 2011, Suzanne Heron has turned photographs into digital paintings and sold them on her website Blue Heron Art (Blueheronart.ca).
But last month Heron had two of her paintings removed from the Sooke Fine Arts Show because she didn't have permission to use the photos they were based on. One was a photo by Janis Morrison of Sidney, a serious amateur who posts her work on Fresh Air Photography on Facebook.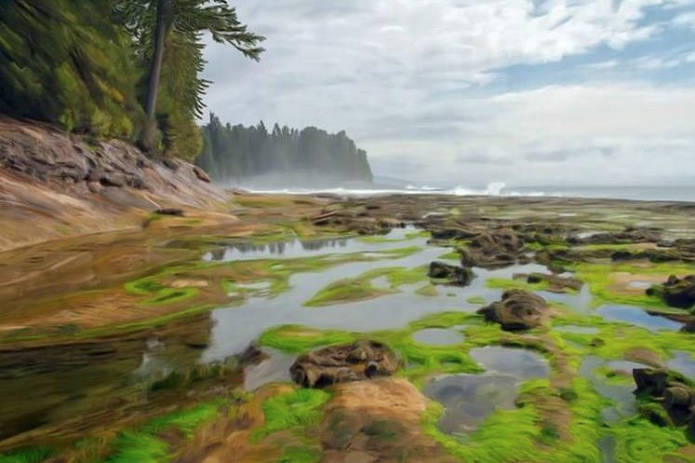 It was a fan of Morrison's who recognized her image at the Sooke Fine Arts Show and alerted Morrison it was being sold without any photo credit.
"It's important for people to know they can't just go online and steal pictures," Morrison said. "Maybe a lot of people don't know these rules and it will be good for people to see this."
During the fallout, dozens piled on to Heron's Facebook page to share their criticism, a series of "hateful, uninformed, vitriolic and public commentary that could be quite damaging," and unlike anything she's ever seen before.
The problem stemmed from a total of seven photographs which Heron based her paintings on and, thinking she had permission, posted them for sale on her website, some of those entering the Sooke Fine Arts Show.
"I'm happy to try and be really clear," Heron said. "My transgression, and it absolutely was a transgression, was not intentional or malicious, but it was dumb and I've learned a great deal. My focus now is on ensuring complete compensation for everybody."
It's a lesson learned she said.
"The photographers [who own the photos] have been professional and courteous and understanding," she said, adding none of the people posting criticisms on social media are actually involved.
Paintings have been removed from her site and she is forwarding 100 per cent of the revenues made on the paintings to the rightful owners, she said.
It's going to cost her somewhere around $10,000. That includes revenue and her out-of-pocket expenses. "Each person is anywhere from under $1,000 to under $5,000."
In the wake of the incident Heron has educated herself on copyright material, including a long conversation with a photographer from the board of the Canadian Association of Professional Image Creators (CAPIC).
In six years, Heron's produced more than 1,000 of her own digital paintings and the copyright infringement applies to seven, she said.
In two cases, she found nature photos online that were unattributed and used them. That was also a mistake, as they were reposted from magazines, including one from National Geographic. She's since been in touch with both rights holders, she said.
From her site, Heron has sold art calendars and digital paintings, which are mostly based on her own photos since 2011. Since 2012 she's made a scenic West Coast calendar for Victoria of her digital paintings. The photos are mostly hers and she has permission to use those that are not. She's done the same for the Okanangan and the Kootenays since 2013, and uses artists specific to that area with all rights secured, she said.
"In my head I had permission, but it was really dumb to assume," Heron said. "I had initial permission to create a digital photo for the calendar, and then I took that further without going back and checking with them."