The Stanley Cup will arrive at Victoria's Inner Harbour next January aboard a canoe and escorted by the Esquimalt and Songhees First Nations.
That scene will kick off Sportsnet's Scotiabank Hockey Day in Canada as the capital city has scored the 13-hour, nationally broadcast event set for Jan. 20, 2024.
Every Canadian NHL team and the Victoria Royals will be in action on the day of the broadcast, which will be supplemented by a four-day-long public festival at Ship Point. Local officials were down at the harbourside location on Tuesday to officially announce Victoria being chosen as the next host city.
"Today is an exciting day for our society, our beautiful city of Victoria and hockey fans across the region," said John Wilson, chair of the Victoria Hockey Legacy Society.
Hockey Day in Canada will bring vibrancy to downtown, feature activities that will bring all members of the community together and show the entire nation that Victoria is a fantastic place to live, visit, work and play, Wilson said.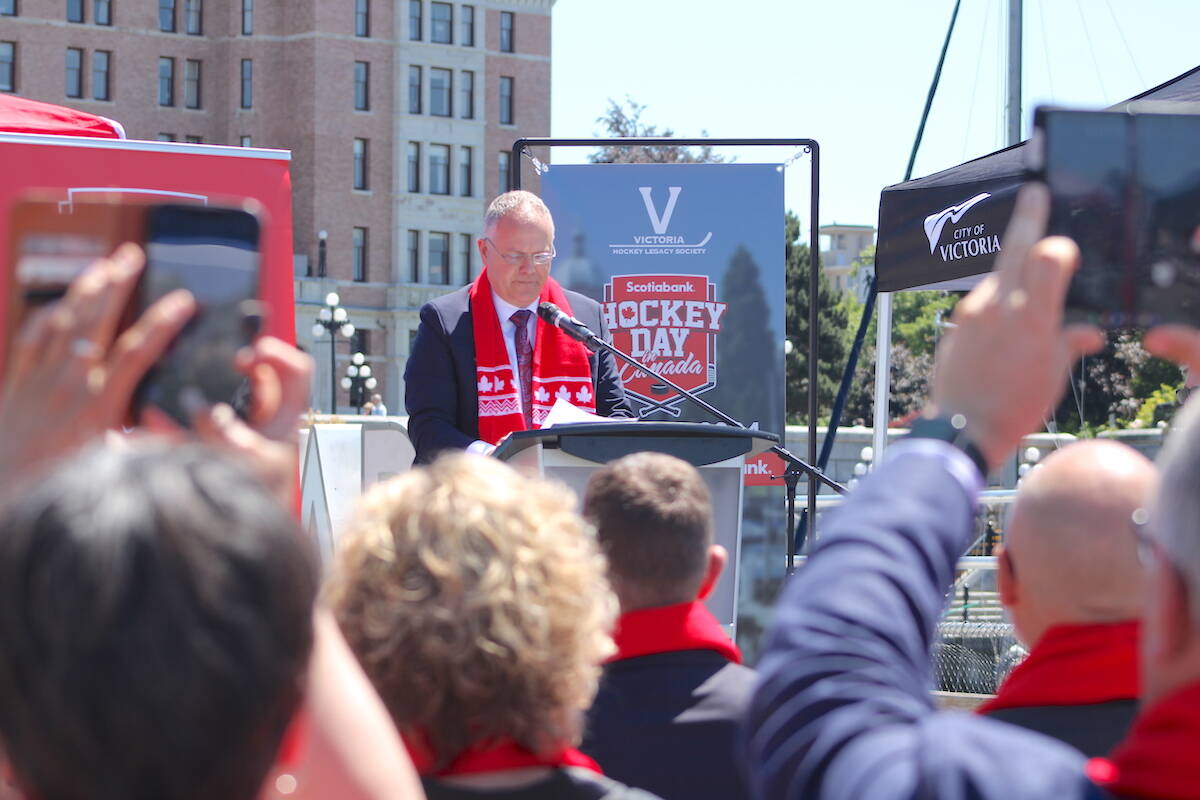 The festivities will include food tents, school visits, clinics for kids, an NHL alumni and celebrity game at the Save-On-Foods Memorial Centre and a night of music. People will also get to play hockey right at Ship Point thanks to a CAN-ICE synthetic ice rink, which will also stick around after next January to be used at future events.
"What an amazing day this is because this is an opportunity for us to use something which I love, which is sports, to be able to bring people to a place like this," said Victoria Mayor Marianne Alto. "When we look back on Jan. 20, we will really be proud of what we accomplished – the people we brought here together."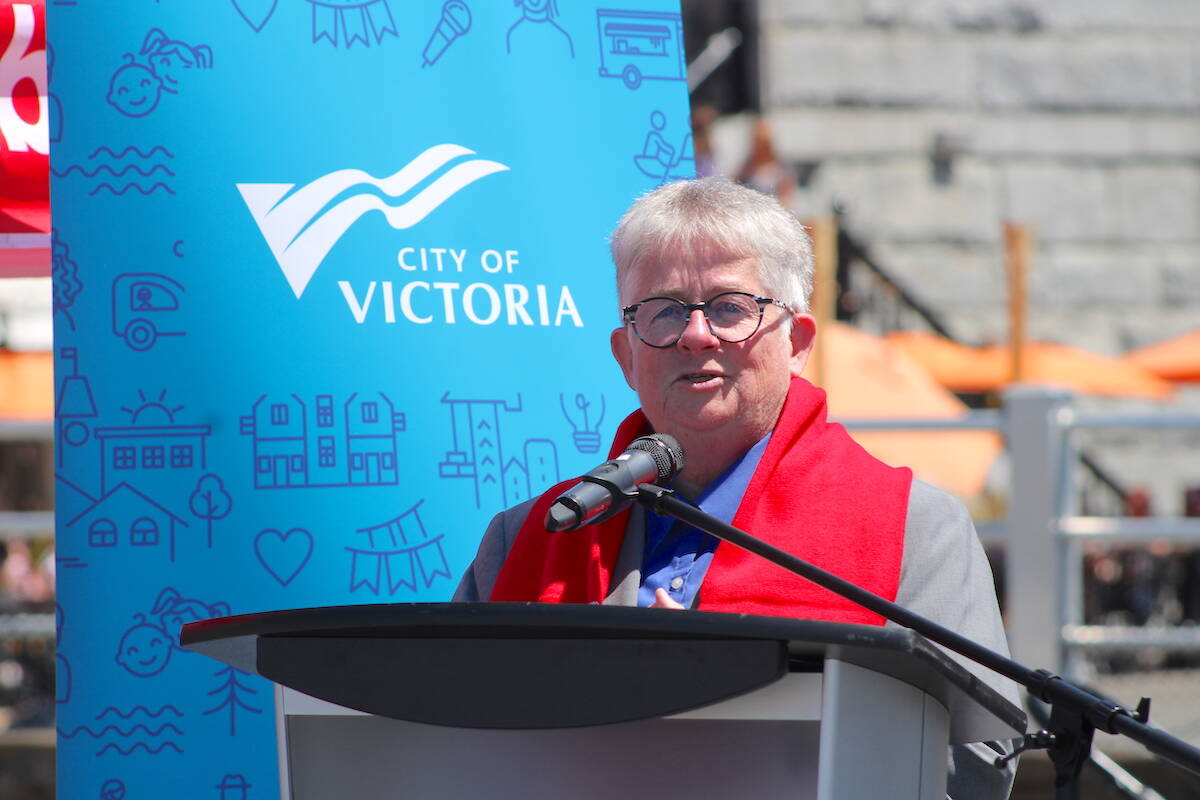 Some speakers shared stories of being impacted by mental health as that will be a big focus of the event, with fundraising benefitting the Courtnall Society for Mental Health.
"Two weeks ago I was walking downtown and a gentleman came up to me and said thank you for saving my daughter, so when I get that around town, it's greater than all the things I achieved when I was playing hockey," said former NHLer Geoff Courtnall, who founded the society with his brothers Bruce and Russ to destigmatize mental health and support related initiatives.
"I lost a sister to mental health and I am just so delighted there will be a focus on that," said Paul Nursey, CEO of Destination Greater Victoria.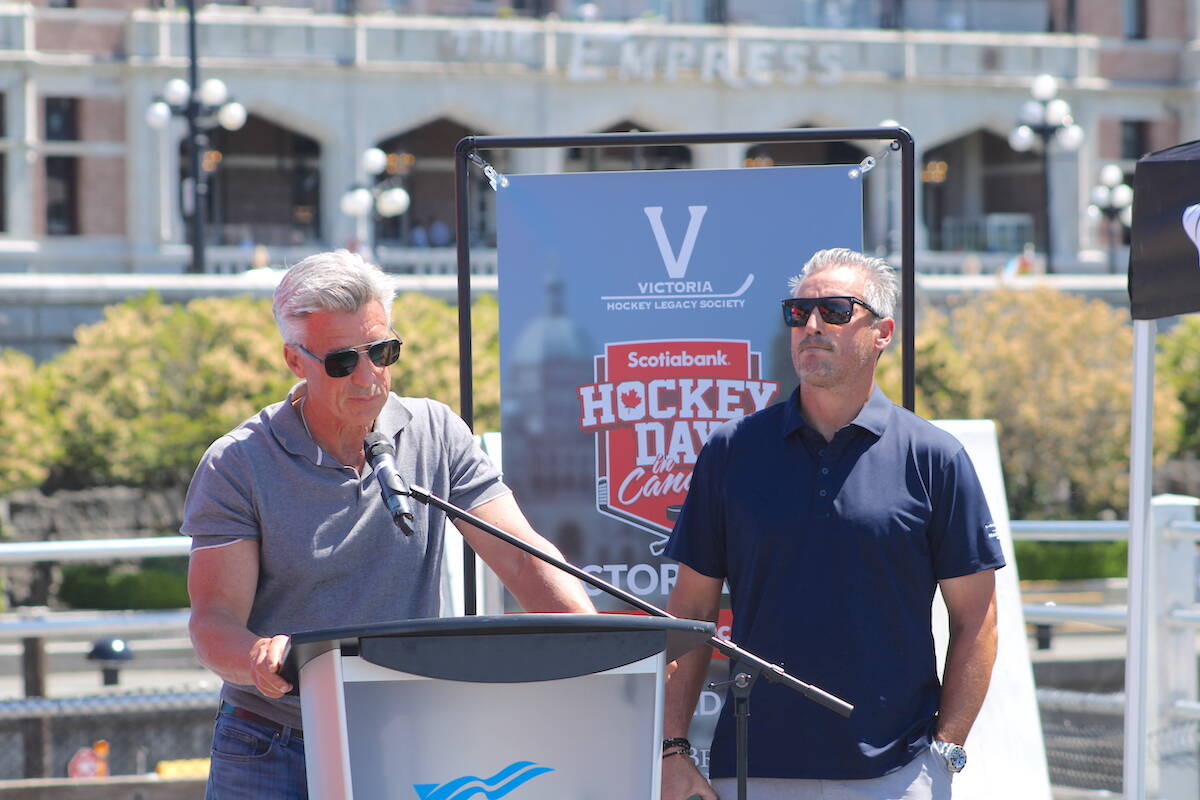 "This is a great opportunity to bring a spotlight onto mental health. Sports have an important role to play in our physical and mental well-being," said Lana Popham, minister of tourism, arts, culture and tourism.
Joel Darling, Sportsnet's executive producer of NHL special events, said the event will highlight the region's hockey history – like the Victoria Cougars winning the Stanley Cup around a century ago or the contribution to the game of the Patrick family, who built the first artificial ice rinks in Canada.
Sophia Pugh, Scotiabank's district vice president on Vancouver Island, said the event is about coming together, celebrating Victoria and building lifelong memories.
"It's our commitment to make the game more inclusive, accessible and diverse by breaking down cultural, gender and financial barriers in sport," she said.