From nature reserves to playgrounds with an interesting history, each beach in Greater Victoria offers something a little different. And no matter how many times you've visited, there's always something new to be discovered.
Here are some of the region's best beaches and a few fun facts to ponder during your visit.
Cadboro-Gyro Park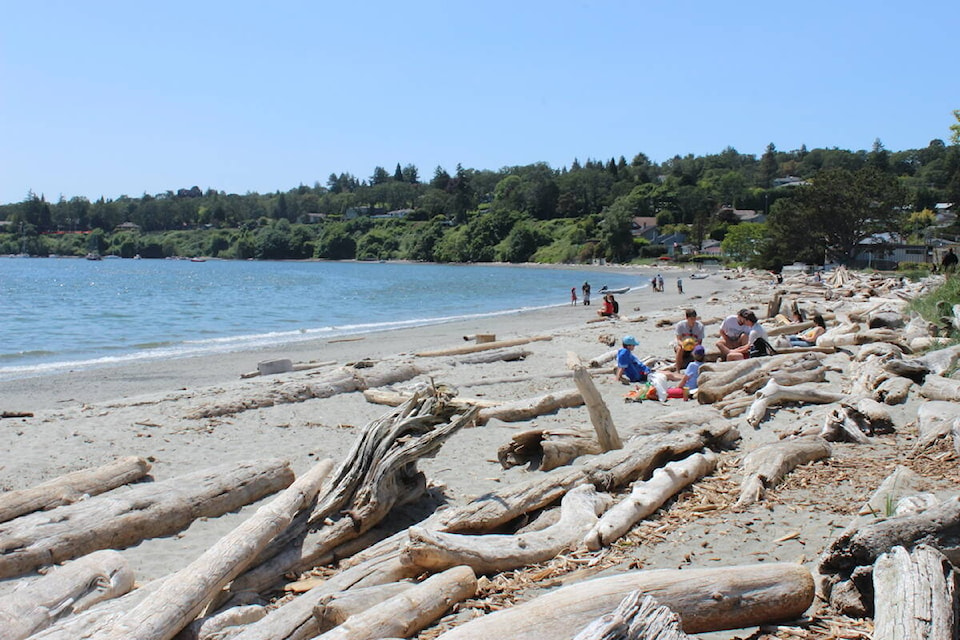 Cadboro-Gyro Park is a family-friendly beach with a pebble-filled shoreline and some sandy sections. Find picnic tables, a boat launch and a fun nautical playground that includes sea creatures, a ship, a shipwreck and a zipline.
Fun fact: The green, snake-like play structure with yellow flippers is actually based on the mythical sea creature, "Cadborosaurus." Nicknamed "Caddy," the Cadborosaurus is a sea serpent in Pacific Coast folklore who gained public attention in Victoria in the 1930s due to many alleged sightings. And where were the most? You guessed it – Cadboro Bay.
[gps-image name="33489040_web1_230330-VNE-BOTC-beachesGV-cadboro_2.jpg"]
Getting there: Cadboro-Gyro Park has a large parking lot with bike racks. Bus routes No. 5, 30, 31 stop near the park.
Gonzales Beach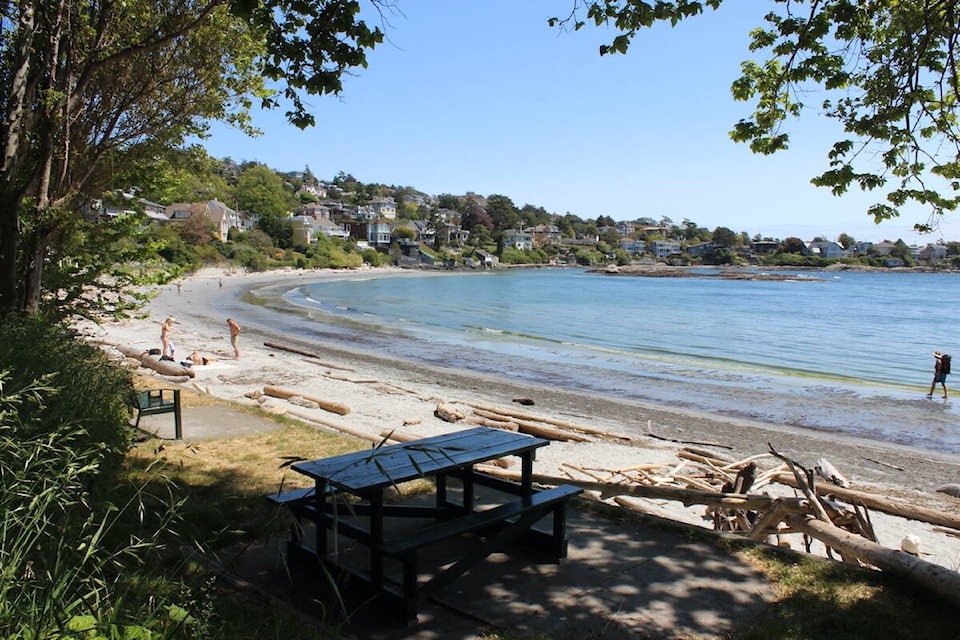 Located off Crescent Road, Gonzales Bay is easy to miss. It's nestled in the quiet, prestigious neighbourhood of Gonzales and is only accessible down flights of stairs or the ramp. It's this hidden solitude that makes it so pristine in the off-season. Come on a summer weekend and you're likely to find people paddle boarding, kayaking, swimming and playing beach volleyball.
Fun fact: Elephant seals sometimes choose Gonzales Beach as their spot to moult between March and July.
Getting there: take BC Transit Route 3 or 7, enjoy free parking, or use bike racks at the top, near Richmond Avenue and Crescent Road.
Willows Beach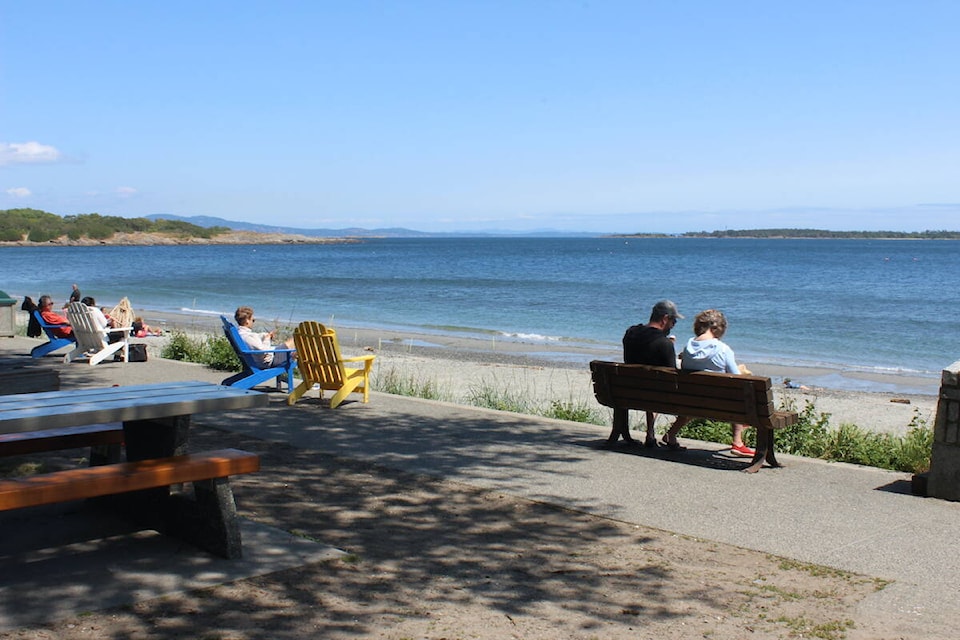 With shallow, protected waters, Willows Beach is one of Victoria's most popular for swimming. On a clear day, it offers gorgeous views of Mount Baker and Discovery Island, all the more breathtaking with the pink skies of sunset.
You'll also find a large grassy park, often filled with people playing Frisbee or having barbecues and picnics, and the Kiwanis Willows Beach Tea Room, which offers dine-in and take-out options, including breakfast, tea and light snacks.
Fun fact: The beach gets its name from the Willows Fairground, Greater Victoria's main horse racing grounds, built in 1891.
Getting there: Willows is a 15-minute drive east from downtown Victoria. A parking lot on Dalhousie Street offers free parking. Uncovered bike storage racks are located in the parking lot and in front of the park. Bus routes No. 2 and 5 will take you there.
Esquimalt Lagoon
Esquimalt Lagoon (which is actually in the community of Colwood) has a long road that runs adjacent to its miles of beach, with a beautiful view of the Strait of Juan de Fuca, Fisgard Lighthouse and the Olympic Mountains. It's is a great location for walks, beachcombing, a picnic, or a swim (if you're the daring kind).
Fun fact: The lagoon is a designated migratory bird sanctuary home to many waterfowl like ducks, swans, herons, eagles and other species that call Victoria home for a season or two of the year during migration.
Getting there: Take BC Transit Route 52. There is free parking all along Lagoon Road facing the ocean. An accessible washroom is located near the Ocean Boulevard intersection with Lagoon Road, along with one accessible parking space and an accessible picnic table.
Island View Beach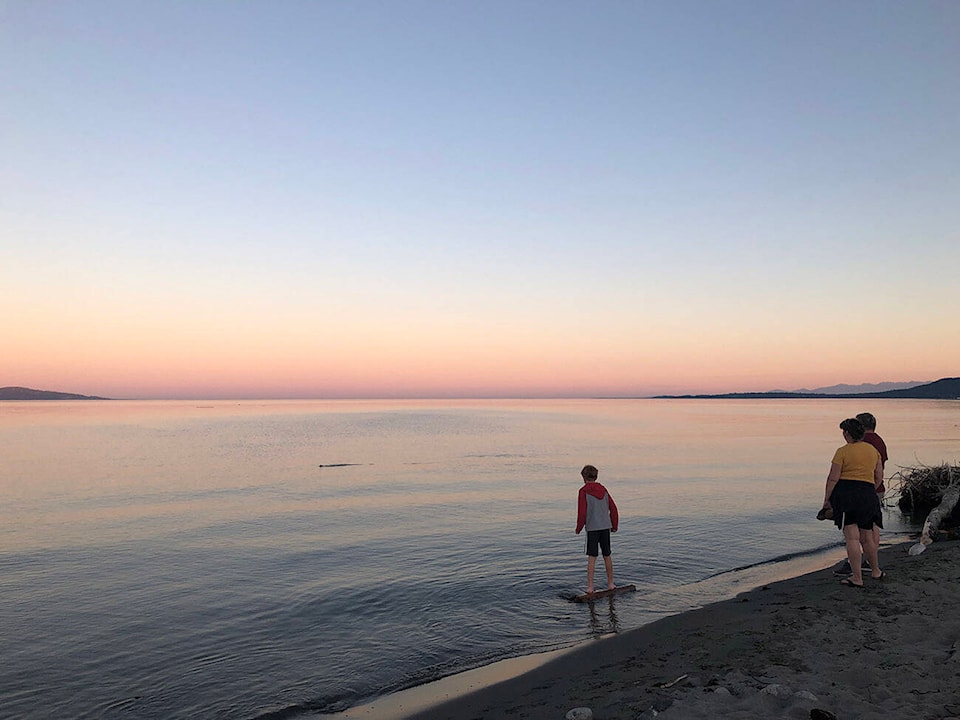 Located in Island View Beach Regional Park, this beach offers 51 hectares of conservation area on the eastern shore of the Saanich Peninsula with views of the Haro Strait and Mount Baker. For campers, there's also a separate RV and tent campground with beachfront views, operating on a reservation system in the summer season.
A trail follows the shoreline, up from the beach area and a loop with a round-trip of around two kilometres.
Fun fact: The park is a nature conservation area with vital bird habitats and more than 100 species of birds. Ecosystems in the area include coastal bluffs, wetlands, sand beach, dunes, inter tidal and sub tidal marine zones. The CRD says fragile and endangered species in the area include the Contorted-pod Evening-primrose, Grey Beach Peavine, Sand-verbena Moth, and the Georgia Basin Bog Spider.
Getting there: Island View Beach is 20 km from downtown Victoria. It is also accessible by bike from the Lochside Regional Trail.
Spiral Beach (Clover Point)
Located off Dallas Road, with fantastic views of the Olympic Mountains, this is a favourite local spot to catch the sunset. Curling around Victoria's south coast at the foot of ocean-side cliffs, there's lots to see due to the ranges of topography and the views that come with it. Looking up, you're likely to see kites, hang gliders, kite surfers and windsurfers. From the vantage point of the cliffs, you'll find grasses and wildflowers in pinks and yellows while ships pass by in the distance.
Fun fact: Spiral Beach is named after its painted spiral staircase which can be found just past the intersection of Dallas Road and Cook Street at the foot of Beacon Hill Park.
Getting there: Parking and bike racks are offered along Dallas Road and Cook Street. Bus route No. 3 offers the closest route. This is not a wheelchair accessible beach.
Plan your adventures throughout the West Coast at westcoasttraveller.com and follow us on Facebook and Instagram @thewestcoasttraveller. And for the top West Coast Travel stories of the week delivered right to your inbox, sign up for our weekly Armchair Traveller newsletter!